CAPG 2015
Turkish Society of Canada,  York Region Polis Teşkilatı tarafından bu yıl CAPG 2015 Konferansına davet edilerek Türkiye'yi temsil etmesi istenmiştir.  Canadian Association of Police Governance (CAPG) tarafından her yıl Kanada'nın bir eyaletinde düzenlenen bu önemli konferansa bu yıl Ontario eyaleti evsahipliği yapmıştır. Organizasyon ise York Region Polis Teşkilatı tarafından yapılmıştır.
Gönüllülerimiz bu davet doğrultusunda, 26 Ağustos günü Markham'da bulunan Hilton Suites Conference Centre'da düzenlenen açılış günü etkinliklerinde Türkiye masası kurarak, Kanada'nın farklı yerlerinden gelen teşkilat mensubu katılımcılara ve misafirlere Türkiye, geleneklerimiz ve konukseverliğimiz hakkında  bilgi aktarmışlardır.
Tüm gün süren sergi  süresince onlarca konuk ile tanışma, ülkemizi tanıtma ve Türk lokumu ikram etme olanağı bulduk. Bu tip etkinliklerin hem Türk toplumunu Kanada'ya daha iyi tanıtmak hem de Kanada ile daha entegre olmuş bir toplum oluşturmak için çok önemli olduğuna inanıyoruz. Gelecekte de benzer projelerde Türkiye'yi temsil etmeye devam edeceğiz.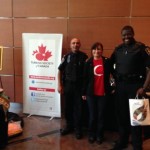 ---
---
---