International Day for the Elimination of Racial Discrimination Event
(English summary will follow)
13 yıldır düzenlenen "York Regional Police International Day for the Elimination of Racial Discrimination Event" etkinliğinin bir yenisi 10 Nisan 2016, Pazar günü 10:00 ile 15:00 saatleri arasında Markham Event Centre, 95 Duffield Drive, Markham adresinde gerçekleştirildi. Turkish Society of Canada gönüllülerinin dördüncü defa davet edildikleri bu etkinliğe, 90'nın üzerinde farklı kültürü temsil eden kurum ve dernek ile 100o'e yakın ziyaretçi katıldı.
Etkinliğin çıkış noktası ise 1960 yılına uzanıyor. 21 Mart 1960 yılında Güney Afrika'nın Sharpeville kasabasında düzenlenen bir gösteriye katılan kalabalığın Güney Afrika polisi tarafından ateş açılarak dağıtılması ve bu olayda 69 sivilin öldürülmesi olayı, 1966 yılında Birleşmiş Milletler tarafından "International Day for the Elimination of Racial Discrimination" olarak tanınmıştır.
Bu nedenle etkinliğin temel amacı, birarada yaşayan farklı kültürlerin birbirlerini daha yakından tanımaları ve anlamaları, toplumlar arası ilişkilerin daha da arttırılması olarak belirlenmiştir. Bu gün çerçevesinde farklı toplumların biraraya gelerek, ırkçılık ve ayrımcılıkla mücadele etmeleri cesaretlendirilmektedir.
York Bölgesi Polisi, son 10 yıldır bu etkinliği düzenlemekte ve her yıl yaklaşık 1000 kişi etkinliğe katılmakta ve ziyaret etmektedir.
Sabah 10:00'dan itibaren etkinlik yerine gelen gönüllülerimiz, etkinlik başlama saatine kadar kendilerine ayrılan sergi alanını hazırladılar. Etkinlik süresince ülkemizin kültürünü tanıtmak ve Kanada'da yaşayan Türk toplumunun varlığını vurgulamak için ülkemizin kültürel zenginliklerini tanıtan eşyaları sergilediler. Konuklara ülkemizi ve Kanada'daki varlığımızı anlatan broşürler dağıttılar. Etkinliğe katılan politikacılar, polis teşkilatı yöneticileri ve diğer toplum liderleri ve katılımcılar ile tanışma ve bilgi paylaşma olanağı buldular. Pek çok toplum temsilcisi ile önümüzdeki projeler için birlikte çalışma ortamı yaratılmış oldular.
Bu ve benzeri etkinlikler, derneğimizin öncelikli hedeflerinden biri olan ve Türk Toplumunun varlığını ve gücünü yaşadığımız topluma duyurmaya yönelik çalışmalarımızın da bir parçasını oluşturmaktadır.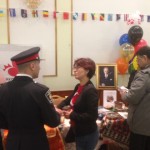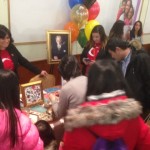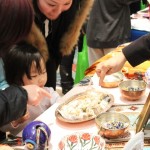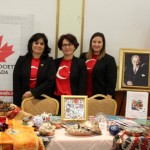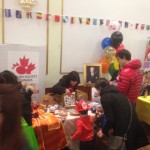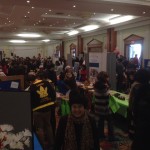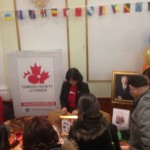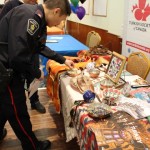 Turkish Society of Canada participated to the "International Day for the Elimination of Racial Discrimination" event organized by York Regional Police on Sunday April 10, 2016 where over 1000 guests attended.
The event commemorates the Sharpeville Massacre in which 69 people lost their lives during a confrontation with South African Police in Sharpeville, South Africa on March 21, 1960 after peacefully protesting Apartheid laws.
Turkish Society of Canada set up a booth with its volunteers, interacted with many diverse ethnic and civil communities and provided them information about Turkish culture and heritage. We exhibited traditional Turkish art and hand crafts and demonstrated rug weaving to the visitors.
Turkish Society of Canada volunteers also had opportunities to communicate with several ethnic community leaders and politicians. We believe these events will help the increased visibility of Turkish Community.
---
---
---