Interview with ACCES
ACCES Employment will be our host this month. We interviewed Paula Calderon, Director Services, Peel Region ACCES Employment and Esat Koksal, Manager, Quality Assurance ACCES Employment during the event.
Thank you for having us and your time for this interview. Paula, can you please share your opinion about the event?
Well I have to say I am very impressed. It is not easy to work in a community, especially a community that is not as large as other communities. I know it is really hard to bring people together and to provide value, but what this does show is that there is a lot of valuable information and services out there. So to be able to provide this valuable information to the amount of people that you are able to attract is actually to me a huge success, I'm very impressed and would like to congratulate all the organizers for this amazing event.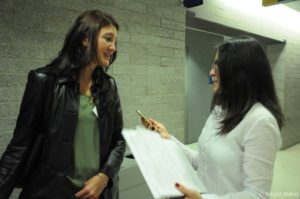 Esat, let's start with introducing your organisation ACCES to our readers? When was ACCES established? What is your mission?
ACCES was established around 30 years ago. Our main mission is to find the right candidates for employers and finding the right jobs for the job-seekers. Our motto is making that great connection between employers and job-seekers. We specialize in helping new Canadians to find work in their field.
Do any applicants have to pay fees to attend ACCES programs and services?
All of our employment services and programs are offered free of charge with the exception of some of our bridging programs that require a small fee (often covered by government bursary.) The bridging program fees cover the cost of the academic partners that we work with.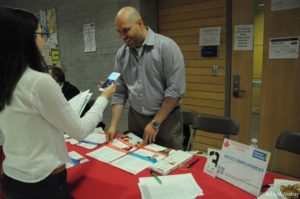 How can a person who wants to apply for your programs contact you? Are there any specific locations where you offer services?
Applicants who wish to apply just need to come in with their updated resumes to any of our ACCES offices; we have 5 offices in the GTA located in Toronto, Scarborough, North York, Brampton, and Mississauga. Our services are walk-in and do not require appointments. Once applicants come to our offices, we direct them to our consultants who can further assist them with detailed counseling for their perfect fit.
Can you please share your opinions about our Career Discovery and Networking Days event?
Today has been organized perfectly, for many people – especially for those who are active job-seekers – today will be very helpful for information sourcing and networking. One suggestion I may have is that, this event could have been directed to more ethnic groups, such as Syrian refugees, since this is a topic that our government pays close attention to. As a member of TSC, we should expose ourselves to more groups which would empower our community's exposure and impact not only locally, but nationwide. This could be the next step for us as TSC, or perhaps even the final step considering we are currently in Ryerson University, downtown Toronto, and we just had a panel which went flawlessly. It will be a great day.
Thank you for being with us and your comments. We wish you and your organization a very successful year.
Thank you
Special thanks to TSC volunteers Sezin Atasoy and Merih Atasoy for this interview.
---
---
---