Interview with United Russian Diaspora of Canada
The board of directors of the United Russian Diaspora of Canada (URDC) will be our hosts this month. Thank you for having us and your time for this interview. Let's start with introducing your organisation to our readers. When URDC was established?
First of all, we want to thank you for the opportunity to introduce our organization to your audience and for the chance to share with you the ideas that drive us forward.
The United Russian Diaspora of Canada (URDC) is a federal not-for-profit organization registered in 2014 for the purpose of unifying and promoting the interests of the growing population of Russian Canadians who have full or partial ancestry from Russia and who identify with that ancestry and its cultural characteristics.
We are the first organization in Canada that advocates for Russian-identified immigrants of all generations, regardless of their political or religious affiliation.
What are the missions of your organization?
Our mai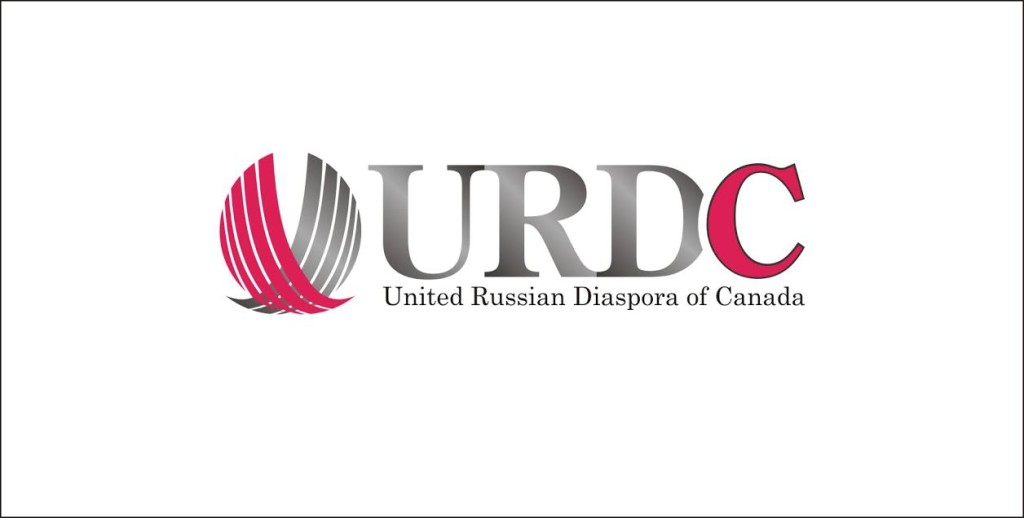 n mission is to raise public awareness of Russian Canadians and promote our culture, talents, and achievements. O
ur secondary mission is to promote an understanding and appreciation of Canadian cultural diversity and to foster collaboration with other communities. Our vision is to see the diaspora continue to grow and prosper based on the understanding that all cultural communities in Canada are interconnected with and interdependent upon each other.
Can you please let us know about your background?
Despite the fact that URDC was recently registered, its directors are not new to the community and have a wide range of expertise in the field of public relations and the interactions with other organizations. They have established several not-for-profit and business corporations, initiated a number of projects, and have been involved in different types of community organizations.
Elena Zolotko, Founder, specializes in cross-cultural communications. She received her PhD in Information Science from Moscow State University of Culture, and came to Canada where she has participated in research and round table discussions at the Centre for Russian and East European Studies at the University of Toronto.  As a journalist for Russian media, Elena has published hundreds of articles, interviews, event coverage, and reports. Along with her business partners, she has sponsored and supported a number of inter-community events. Elena has also served as a board member for the Canadian Ethnic Media Association (CEMA) for many years.
Valeria Buzaker, LL.B., President, is the founder of Buzaker Law Firm Professional Corporation, a member of the Law Society of Upper Canada, and has been called to the bar in both Ontario. Her international training allows her to bring significant knowledge of the law as well as skill gained through years of practice in different countries. Valeria's years of training have also allowed her to acquire rich management and decision-making experience and skills. Valeria provides legal services to many members of the Russian community and is a frequent lecturer at a variety of conferences and seminars.
Gerri Sonkin, 1st Vice-President, works as an Investment Advisor and Financial Planner with RBC Wealth Management and RBC Dominion Securities.
Yury Konev, 2nd Vice President,is a founder of the community centre Russian House, an organization that supports the Russian-speaking community of Toronto by providing informational, educational, recreational, and cultural programs.
Nina Zaslavsky, Director of Public and Government Relations, is a well-known and respected member of the Russian-speaking community. The Successful Woman Council which she co-founded and leads for many years is a truly successful and influential organization.
The list of board members can be continued. Our board is made up of people from across Canada with diverse skill sets. They volunteer their time, their passion, and their expertise to enable our organization to grow and accomplish its missions.
When did the first wave of Russians come to Canada? Are there any specific locations where Russian Canadians populated?
Historically, the Russian diaspora in Canada demonstrates a highly distinctive identity. It is formed by people who left the Imperial Russia, Soviet Union and Russian Federation at different times under different circumstances.
The first Russians to settle in Western Canada in 1899 were Dukhobors (literally – the "spirit fighters"), a group of radical pacifists who are still active in their culture.  In the beginning of the 1900s, a few thousand Russian Jews fleeing from the pogroms (sporadic attacks on Jewish properties and persons) were arriving to this country.  A group of pro-imperial Russians migrated in 1920s in the wake of the Russian Proletarian Revolution. Russian "displaced persons" from Europe and Central Asia entered Canada after Second World War in 1948 to 1953.
During the years of 1980 to 1990, thousands of Russian Jews and their non-Jewish family members immigrated to Canada from the former Soviet Union. Since then, they have continued to form a significant part of Russian immigrants, retaining many aspects of Russian culture. Many Jews of Russian ancestry re-migrated to Canada in the first decade of the 21st century following sojourns in Israel, Germany, and elsewhere.
The immigrants from the Russian Federation and former Soviet republics, who have settled in Canada in the last two decades, have been forced from their homeland due to unfavorable circumstances, or came to do business, pursue a career, work, or study.
How many Russian Canadians live in Ontario and Canada?
Nobody knows precisely how large the Russian diaspora in Canada is today. According to the Canada 2011 Census, there were 550,520 Canadians who claimed full or partial Russian ancestry. In Ontario, 167,360 people declared their identity as Russian, and in Toronto this number is 102,815.
How do you describe the Russian community in Canada? Their professions, cultural activities, education levels, contributions to community?
Russian Canadians are among the most educated in Canada's immigration history and are more likely to have a higher education degree than the national average – an overwhelming majority have a bachelor's degree. They value family and education, and wish to preserve their language and culture. Today, in Canada, there are more than 50 Russian-language print publications, and more than a dozen Russian- language television stations and radio channels.
Russian immigrants have greatly contributed to Canadian society and culture, including fine arts and music, education and technology, sports and dance, the culinary arts, and numerous other fields of endeavor.
Turkish Society of Canada volunteers and Russian Canadians often meet in different cultural events.  Can you please tell us some more about your activities and events?
There are several Russian not-for-profit organizations in Canada and particularly in Toronto that organize various community events. A significant event is the annual Russian Gala Ball organized by the Russian Cultural Society, the most established Russian cultural organization in Toronto, which has been active since 1950.  URDC founders and board members have supported numerous community events and cultural projects demonstrating Russian Canadians contributions to Canadian society, health and well-being, economic growth, culture, and arts. Amongst others, these include sponsoring the Russian community hockey team The Kremlins (Heritage Bowl winners) for its participation in The Canadian Multicultural Hockey League (CMHL) Championship, supporting the first in Canada International Ballet Competition organized by The World Ballet Art Company, and co-organizing a fundraising event to support women and girls.
Are you satisfied with the interaction of Russian community with other communities?
Members of our community communicate with other cultural communities mainly through their own social or professional affiliations. URDC's goal is to establish steady relations with other community organizations based on our shared values, mutual interests and important events in world history. We believe that our community's activity should be woven into the multicultural fabric of Canadian society.
Last year URDC initiated and co-organized the first inter-cultural event dedicated to the little-known history of Russian Jews in China. Our founder took part in the celebration of the Anniversary of Turkish Republic Day in Toronto.
You will be joining International Children Day event organized by Turkish Society of Canada on April 16th at Nathan Philips Square. Guests will have another chance to meet your culture and Russian Canadians during this event. Your volunteers will have chance to meet and interact with other communities.
Traditionally, Russians tend to be more reserved than some other cultures and prefer to develop personal and business relationships more in a slow and cautious manner. However, URDC is excited to attend this event in order to foster deeper inter-community relationships, introduce other communities to Russian culture, and to learn more about the other communities in attendance.
Russians are proud of their mother-country, especially its cultural achievements. Most of us are very eager to share our knowledge on this subject with other communities. We appreciate expressions of respect for our cultural achievements, and are always pleased when others display interest in or knowledge of Russian artists, composers, and writers.
What other benefits do you expect to gain from this event?
We hope to continue
to create trust and understanding that cultural diversity is important for childrens' development and well-being. Together we can successfully promote family wellness and build social support by enhancing inter-community ties. Children are great "cultural interpreters"!
Do you have a specific message to Turkish Canadians? Do you think that any future joint events with Turkish Canadians may help both communities to know each other better?
The greater the level of social interaction, the more successful is inter-community relationship. There is no doubt that the participation in each other's events (cultural, touristic, educational and entrepreneurial) will have a huge positive impact on the social and business relations between our communities locally, nationally, and globally.
Thank you for being with us and your comments. We wish you and your organization a very successful year.
Thank you
---
---
---